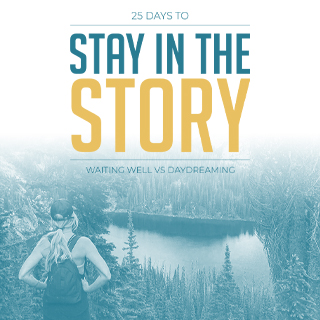 Are you continuously finding yourself thinking about that vision you once had, your calling, or what you're called to fight for?
If you're anything like me, I often have to be intentional about planning and working out those steps to get there rather than just daydreaming. Part of "waiting" is in the pressing in—a listening ear and responsive heart to the wooing of God as though we long for the revelation of truth and love from God. Pressing in could be the most difficult part of "waiting", because we don't feel much traction when things are so out of our control that the only option we have is to press in and keep pursuing God!
But HE is good to those who wait! This type of waiting is not just sitting back while eating bonbons, but it's waiting by pressing in: seeking to know HIM more, learning of God's character and praising Him in the middle of the storms and the dry seasons whenever they come. Yes, it's much easier said than done, but if we work like it depends on us, and then pray like it depends on Him, then He will do ONLY WHAT HE CAN DO!
My encouragement to you is to let God work behind the scenes while you continue your journey forward, chasing that vision and waiting for it to unfold. When it's time, He will GLORIOUSLY show up and show off! And when He does, everyone around you, including you, will be able to say "GOD DID THAT!"
Ephesians 3:20 says that "He can do immeasurably more than all we could ask or imagine through the power working within us!" which gives us permission to dream God-sized dreams. Even in the desert or on the journey where we feel like we've been waiting for way too long, He promises to make a way! (Isaiah 43:19) So be encouraged, sweet friend: "Blessed are all those who [earnestly] wait for Him, who expect and look and long for Him [for His victory, His favor, His love, His peace, His joy, and His matchless, unbroken companionship]!" – Isaiah 30:18
As you go through the next 25 days, take time to reflect with the questions I ask you upon finishing the devotional. These questions are meant to spur you on towards more. If you get stuck, that's ok. Try asking God to open your mind to what might be getting in the way and then jump back in. My hope is this time spent in God's word and reflecting on your own journey of waiting you will experience great breakthroughs. When you do, I'd love to hear about them! A lot of prayer, tears, and time has been poured over these days so I hope you will be encouraged in the process.
Now, from here, I can't wait to dive in with you!
So, may God lift your chin, awaken your heart, and open your eyes to all you possess in Him. May you refuse to let your disappointments define you. May you instead stand on that barren land and envision a harvest. May you experience a revival of faith in the very place of your heartbreak. Instead of rehashing your losses, look ahead and determine to rehearse His promises because they're truer than your circumstances. May you choose hope. Choose to press in through the hard parts, the ugly parts, the boring parts. Trust in an everlasting sovereign Father who is GOOD and just like any Father who wants his best for his children, may you REST in Him as you endure the process of waiting.
…
Now, start with DAY 1 TODAY.
---
---
Categories: christianity, english